Desde Freddy Mercury
From Freddy Mercury
Hasta Tom Cruise (que mira que no me gusta el hombre, pero hay que reconocer que los lleva bien)
To Tom Cruise ( Not my favourite actor, but have to admit he wears the leather pants well)
Los pantalones de cuero son sinónimo de rock and roll.Si son negros y ceñidos mucho mejor. Es la cura anti- noñis para cualquier armario.
Leather pants are synonym with rock and roll. The tighter the better, and black. It is the anti-prudish cure to any wardrobe. No nonsense, no frills.
Para hacerlos elegí un modelo sencillo donde los haya: dos pinzas atras, dos delante, cremallera al lado. Por cierto, para quien quiera hacerlos, el patrón viene hasta la rodilla, luego lo alargas tú misma, así que le puedes dar la forma abajo que tu quieras. Yo lo he dejado recto de modo que me pueda llevarlos por fuera de los botines.
To make them I used the simplest pattern for slim trousers: two darts front, two darts back, zipper to the side. The pattern is drawn to the knee, then you have to elongate it on your own. So there is a chance to make them a bit flared, straight... I chose to make them straight to wear them covering my ankle boots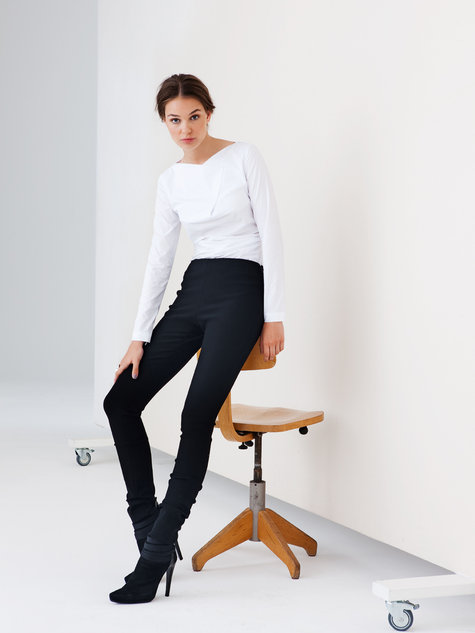 Por razones económicas éticas, el material del que están hechos los pantalones no es piel autentica. Es polipiel. Con este tipo de tejido no quieres hacer muchas costuras, porque rompe muy facilmente. Tambien es aconsejable usar el pegamento textil donde no sea absolutamente necesario pespuntear. Yo lo usé en los bajos y para mantener las vistas en su sitio. Para abrir las costuras, plancha suave con un pañito.
For economic ethical reasons I used leatherette. With this kind of thing you don´t want to make many seams, it breaks easily. It is advisable to use textile glue where possible. I used it in the hems and to keep the facings in place. To open the seams, use a piece of cloth between the iron and the leatherette, or your pants will fuse to the iron!
¡Esta vez he tenido que hacer muchas pruebas antes de coser!
This time I had to try this a lot of times to get the fit right!
De la camisa os hablo mañana, que ha sido una odisea coserla y necesito tiempo para relatar
About the blouse I´ll tell you tomorrow because now I´m going to "put another dime in the jukebox baby" yeah!